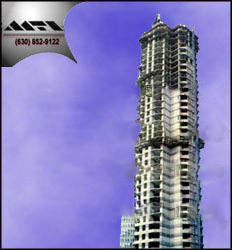 BACKGROUND

Masonry Technologies Inc. (MTI) is a consulting firm based in Downers Grove, Illinois that specializes in problem-prevention and problem solving for all types of masonry systems. Services include construction document review, construction site observation, masonry wall inspections and restorations, forensic investigation, expert witness, and seminars. Click here to see a summary of our services

MTI was founded by Walter A. Laska who has devoted his entire career to the study of masonry design, construction and materials. Mr. Laska provides the firm with over twenty years of specialized masonry experience encompassing: research, technical writing, specification development, architectural and engineering consultation, construction litigation, and lecturing. Click here to see his biography.

At the forefront of his field, Mr. Laska has produced over 85 masonry publications and technical documents including a 200 page Handbook on masonry detailing. He is a member of numerous professional societies and also is a member of the Masonry Standards Joint Committee, the code writing body that establish building design and construction standards.
Prior to founding MTI, Mr. Laska worked eight years as a staff architect for the Masonry Advisory Council, an organization dedicated to the advancement of quality materials, design and construction of masonry systems. This experience has provided him with a background in all areas of masonry.

MTI has served thousands of clients, including architects, engineers, government agencies, property managers, law firms, building developers, contractors and property owners. MTI takes pride in its understanding of client needs and strides to find economical solutions that are reasonable and practical to implement. Click here to see a Portfolio
I would like to personally thank you for visiting, and invite you to explore our services so we can assist you in solving your masonry problems.